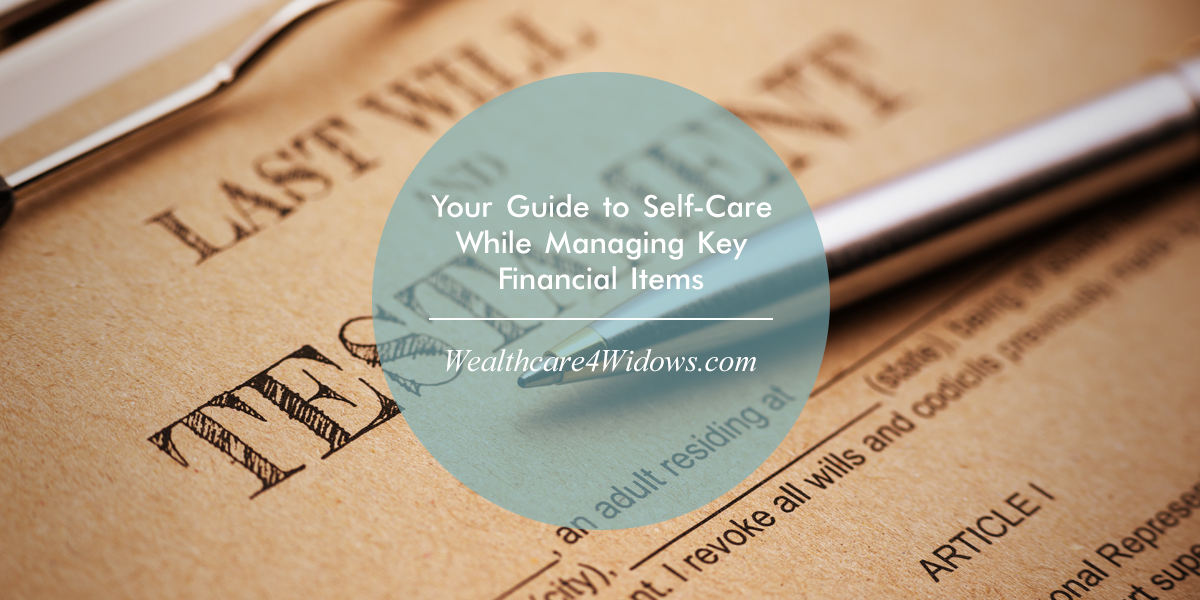 For the past few months, we've been focusing on making an informed decision for your financial future. But as you follow through on key financial items, it's important to understand the healing power of creating a routine for yourself.
Routine restores order. Order cultivates calm and stillness which is essential to healing. Because my team and I create a financial advisory process that is designed around the unique needs of widows, we encourage you to take a slower pace and integrate the necessity of focusing on self-care – even the simplest acts in order to keep you moving forward.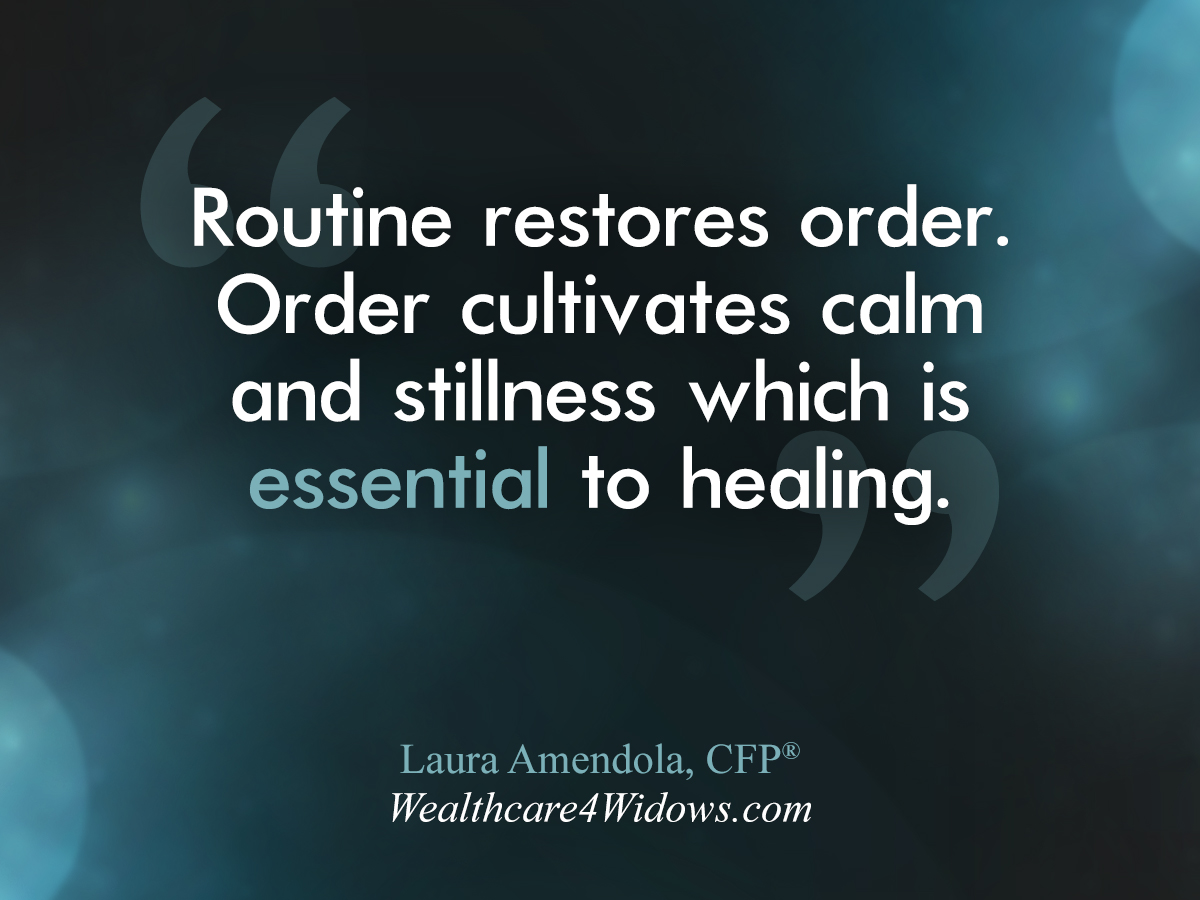 Grief is a time of darkness and overwhelm. Every day can feel like one long, frustrating attempt to get anything done. Moving forward requires making a choice to take small baby-steps toward healing. One small choice and then another…and your grief muscles will begin to grow.
That's why we would like to offer you a guide for routine and self-care along with three books we highly recommend to our clients (listed at the bottom of this article)…
Daily Habits
There's something healing about repetition and rhythm. It can help you feel centered and balanced. This is why following a unique daily process is so empowering when building your resilience after loss.
If you are feeling paralyzed with grief and despair, I'd like you to try using our Daily Habits Worksheet before embarking on any financial tasks. Through my experience working with widows, I've found this sheet to be essential. It gives you permission to focus on your self-care first, which ultimately, will be vital to your healing.
You can download your copy here.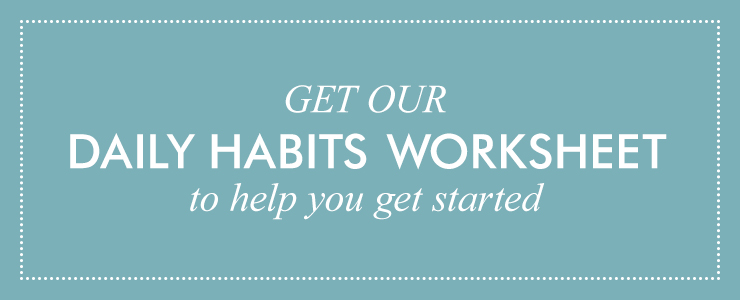 Sometimes focusing on the one little thing you have complete control over can make all the difference to create more ease and grace.
This is why the first item we list is the simple step of making your bed. Grief can cause your days to feel long and filled with anxious moments. This simple act will give a small sense of strength and will encourage you to do another task – and another, and so on.
It's also the same reason it's the first thing taught in boot camp for our soldiers to help get them through combat. Grief is combat and so this simple act – I promise you – starts to create a sense of stability and structure.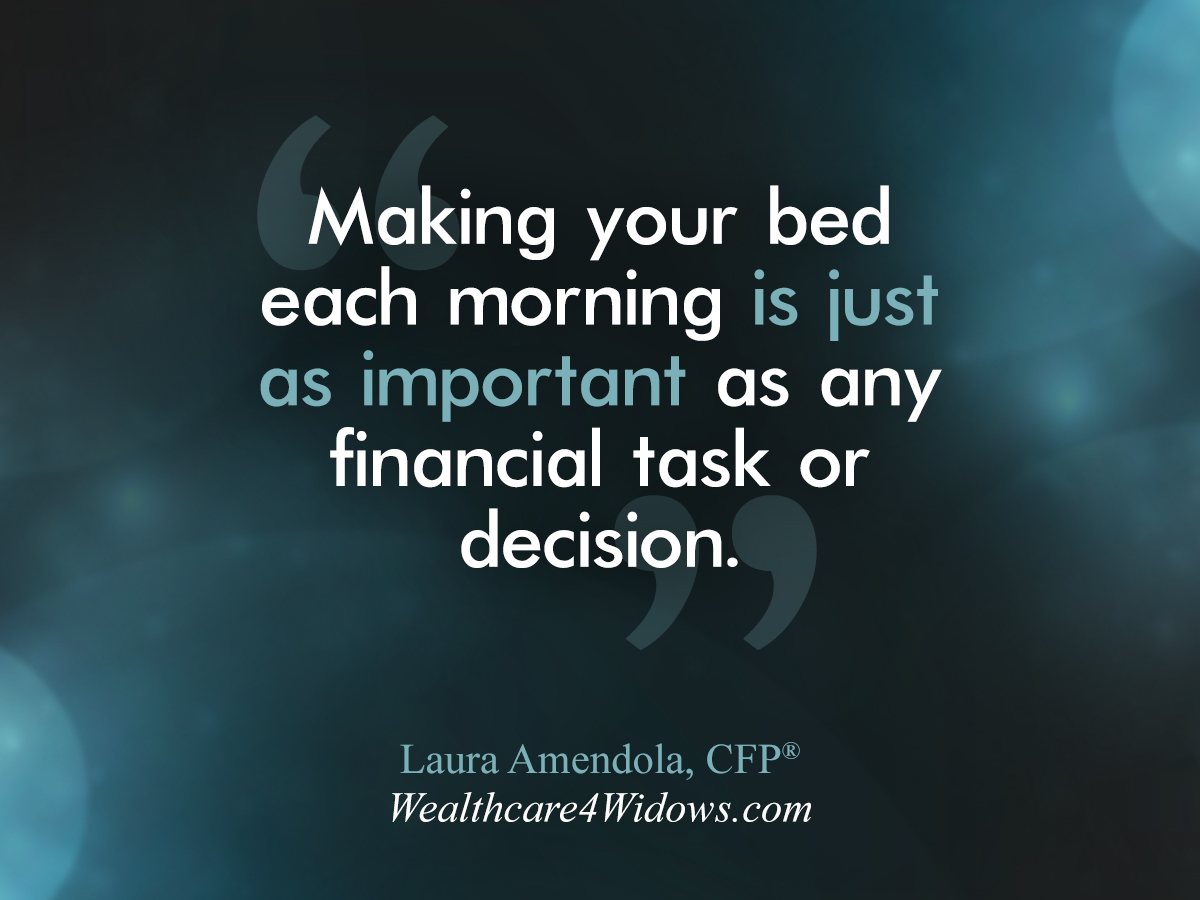 The last item on the habit list is to tidy or "shine" your sink every evening! Tidying this small area of your home will also yield enormous results in taking control back from grief. Many widows have reported to me that this was one of the most beneficial routines they incorporated as they started their recovery process. It helped to build their resilience!
During the dark period of grief, getting started can feel so far from your reach. But I want to make sure you get there – by championing you with even the smallest of baby-steps to help you. During times of grief, making your bed is truly just as important as meeting with your attorney to file the will or understanding how your finances will support you.
Flow Creates Movement
What makes this process so unique is that, in between these two items, I offer you ways to begin financial tasks right alongside self-care. These daily tasks then become weekly tasks. We integrate the rhythm of routine-personal tasks to help power your effort to accomplish financial tasks (and larger acts of self-care). This creates flow and flow creates forward movement. All together, this builds momentum for your grief recovery.
One of the reasons I started working with widows is because it's different than just talking about your current financial picture and what to do moving forward. Working with a widow also requires an added sense of commitment to create timelines for important tasks so that you successfully accomplish them with ease and grace.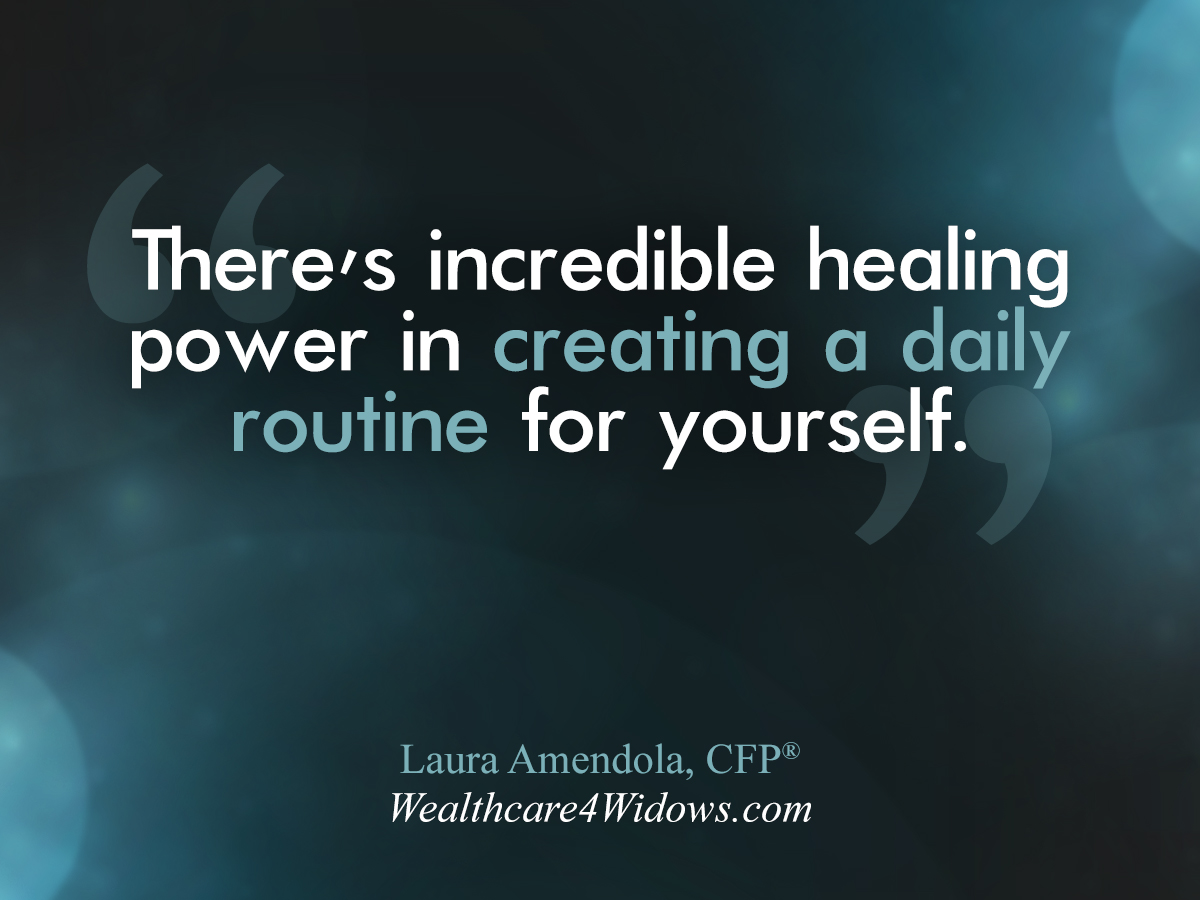 You also need a supportive partner by your side – every step of the way – so that you actually begin to do the tasks on the list. This is why when we work with clients, we focus on the following results…
Eliminating the fear

that is created by the uncertainty of knowing if you have enough to support yourself.

Understand which financial resources you have

to support your recovery and renewal process, while creating financial security for yourself and your family.

Quickly prioritize any financial decisions

that arise with ease and grace.
If you'd like to experience exactly how this can help you, I'd like to offer you the opportunity to schedule a complimentary Discovery Meeting with me. You can schedule yours by calling my office at 877.865.6072 or email us at Barbara.Wickman@RaymondJames.com
No matter where you are in your grief journey – one week, one year, three years, or five – we will identify where you need to start building routines. That's why the Daily Habit Sheet is a great place to start.
So be sure to download your copy now.
Ultimately, my goal is to establish a process that will set you up for success – both personally and for your finances. As peace and order begin to replace the chaos and the frenetic energy that grief can cause, you will begin to be able to move forward with clarity and confidence.
Wishing you ease, grace, and financial success,
~Laura
Books we highly recommend to help you with the Daily Habits Worksheet and this part of your grief journey are:
The Art of Extreme Self-Care,

by Cheryl Richardson

Make Your Bed,

by Admiral William H. McRaven (U.S. Navy Retired)

The Life-Changing Magic of Tidying Up,

by Marie Kondo
Any opinions are those of Laura L. Amendola and not necessarily those of RJFS or Raymond James. Raymond James is not affiliated with and does not endorse the opinions or services of the authors and their respective books mentioned in this blog.